What's New of Accurate 5
3 minutes instead of 3 Hours for stamp patterns!
When you meet the revolutionary innovations of Accurate 5, you will bring your extraordinary designs to life very quickly with stamp patterns. Accurate 5 will save you both cost and time, making you one step ahead in the industry.
12 Color Sequins
• With the field filling stamp option, the option of processing stamps from 1 to 12 colors on the same needle at the same time
• Possibility to apply in a short time thanks to the easy selection of 12 color stamps in classic, basic, mixed, area filling flake
Filter
• Macro lock filter area fill
• Automatic chain filter application to macro filter edge
• Chain strainer area filling
• Helix drawing application to towel and chain strainer
• Helix drawing lase and cortene application
• Filling of stamps and beads
• Macro field filling
• Filling fields and easy editing
• Different direction of Chinese needle
Other innovations of Accurate 5
To be able to define the color, size and shape of the stamps.

Bead identification.

Mixed space filling with flakes.

User defined stamp attachment.

Being able to arrange different stamps on the same line with a special template.

8 stamps support.

More powerful database with MS Access.

Closing gaps in Chinese needle caused by shrinkage.

To be able to use stamps and beads in macro.

Throwback effects that can be given angle and space in sewing.

Automatic image merging.

Barudan format support.

The interface that the user can design according to his own needs.

Automatic software update.

Windows 64 bit support.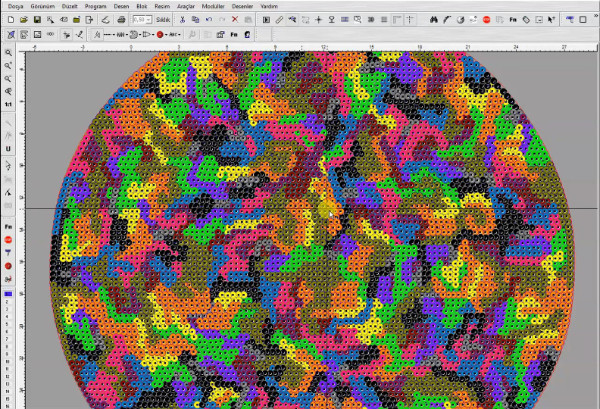 Features That Make Accurate 5 Superior
Stitch Features:
360 degree angle

Spacing or overlap between steps
Winding Features:
One-button adjustment of the optimum density for winding quality

Fast pattern making thanks to snap-in accompanied by vector drawings
Chinese needle features:
Enabling original designs by creating independent template effects

Creating fuller and more voluminous areas thanks to the Chinese needle needles
Macro Features:
Creating special sewing effects and placing them in the area

Filling the area filling line in the shortest time with the most suitable passes
Classic Stamp Features:
Balanced scale distribution on the coordinate line

Possibility to process 12 color flakes

Introducing different sizes for each color
Mixed Stamp Properties
Automatic field filling in mixed stamp

Placing multi-colored stamps within the area

Scattered placement of stamps with random distribution feature

Choosing different fastening stitching techniques

One-touch pattern enlargement and pattern reduction

One-click pattern densification and thinning

Spacing within the pattern
Double Sided Stamp Features:
Seeing bidirectional patterns at the same time

Processing 4 different color flakes at the same time

Setting unique sequin stitches

Easy to use stamp parameter page

Auto zoom reduction